Step into Beveldom, a world of kinetic art made entirely from junk.
Experience the power of kinetics with moving sculptures from the Museum Of Kinetic Art.
See Mat Bevel's creative forces demonstrate the wonders of kinetic art.
Watch The Bevel Cafe narrative unfold, a story that reminds us, everything can find new life.
Bring Beveldom to your next meeting and inspire your organization. 
Our Mission
Mat Bevel Company reveals the magnificent potential of resourcefulness using A.R.T.—Available Resource Technology. We inspire people of all ages to cultivate greater awareness, ingenuity and purpose through found-object kinetic art, theater, hands-on learning experiences and new media arts.
Our Work
At Mat Bevel Company we're creating a modern climate of inspiration that builds community through the spirit of art, giving people a sense of awe, purpose and motivation through our work—Museum of Kinetic Art, Surrealistic Pop Science Theater, School of Intuition and Bevelvision Productions.
Mat Bevel Company Updates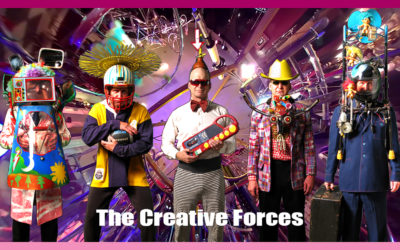 Through the Power of Kinetics the sculptures come to life  In our last update, we reported our progress with Bevelvision. Mat Bevel Company President Ned Schaper has been capturing a mix of footage from three very different cameras. In the near future, Ned will use...
Bevelvision Productions
We're producing a new fine art, educational TV called The Mat Bevel Show.
Mat Bevel Store
Our online store includes fine art photography and drawings. Merchandise is coming soon!
Museum Of Kinetic Art
Private tours of Mat Bevel's Museum Of Kinetic Art are available for small groups.