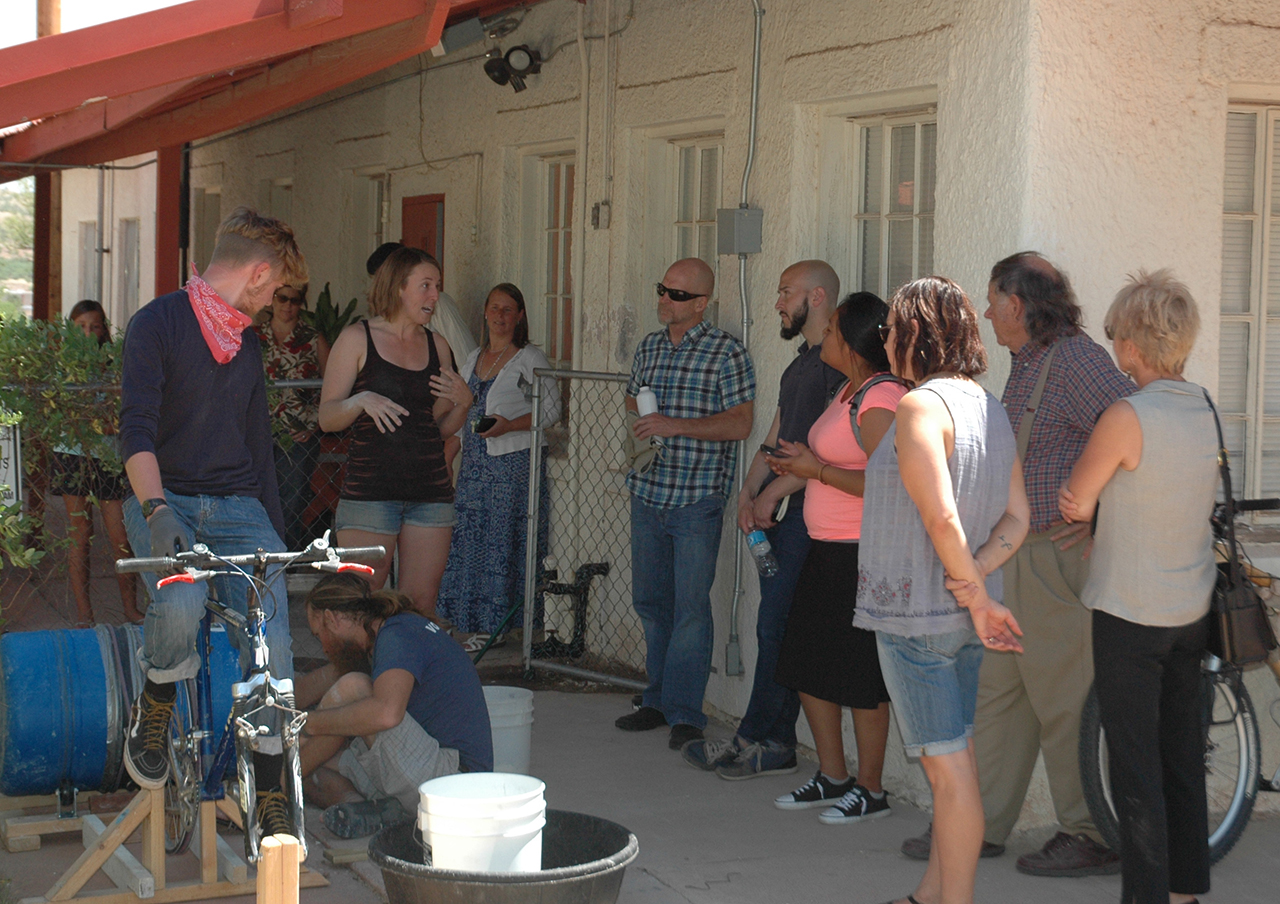 (June 7, 2017) Today, ArtPlace America announced that Mat Bevel Company is one of 70 finalists for the 2017 National Creative Placemaking Fund (NCPF). ArtPlace's National Creative Placemaking Fund is a highly competitive national program, receiving 987 applications this year. Mat Bevel Company's project one of just 7% of the projects across the country to make this cut.
Through this national program, ArtPlace America invests money in communities across the country in which artists, arts organizations, and arts and culture activity help drive community development change across 10 sectors of community planning and development: agriculture and food; economic development; education and youth; environment and energy; health; housing; immigration; public safety; transportation; or workforce development.  
Mat Bevel Company proposed the Patagonia Pollinator Project, a new model of K-12 place-based learning that cross-pollinates the knowledge of 8 to 10 local expert change makers with students. In a unique approach called "kinetic junk theater," Mat Bevel Company will use theater, found-object kinetic art, hands-on learning techniques, new media arts and digital storytelling to drive educational and youth development outcomes.
Partners for the project include Rachell Hochheim, Superintendent for Patagonia Public Schools, Cassina Quiroga Farley, Director & Program Developer for Patagonia Creative Arts Association, Jose Manule Barraza Santos, 10th grade student and artist at Patagonia Public Schools and Mandy Montanez, Business Manager for Red Mountain Foods, Town of Patagonia Planning & Zoning member and Patagonia Public Schools site council member.
"The National Grants Program is actively building a portfolio that reflects the full breadth of our country's arts and cultural sector, as well as the community planning and development field," said ArtPlace's Director of National Grantmaking F. Javier Torres. "Knowing that these projects, and the hundreds of others who applied, are using arts and culture strategies to make the communities across this country healthier and stronger is inspirational."
"We believe that these projects, when added to our tremendously strong portfolio of demonstration projects, will inspire, equip and connect members of the arts and culture field, the community planning and development field and those who are working to make healthy and equitable communities creatively across the country," said ArtPlace America Executive Director Jamie Bennett.
The complete list of the 2017 finalists for ArtPlace's National Creative Placemaking Fund may be found here.
About Mat Bevel Company
Mat Bevel Company reveals the magnificent potential of resourcefulness using ART—Available Resource Technology. The 501(c)(3) non-profit organization inspires people of all ages to cultivate greater awareness, ingenuity and purpose through found-object kinetic art, theater, hands-on learning experiences and new media arts. The work builds a deeper connection to art, science, education and our culture through the Museum Of Kinetic Art, Surrealistic Pop Science Theater, the School of Intuition and Bevelvision Productions.
About ArtPlace America
ArtPlace America (ArtPlace) is a ten-year collaboration among 16 partner foundations, along with 8 federal agencies and 6 financial institutions, that works to position arts and culture as a core sector of comprehensive community planning and development in order to help strengthen the social, physical, and economic fabric of communities.
ArtPlace focuses its work on creative placemaking, projects in which art plays an intentional and integrated role in place-based community planning and development. This brings artists, arts organizations, and artistic activity into the suite of placemaking strategies pioneered by Jane Jacobs and her colleagues, who believed that community development must be locally informed, human-centric, and holistic.
Media contact:        
Paula Schaper
Vice President
Mat Bevel Company
520-604-6273
www.matbevelcompany.org
pschaper@matbevelcompany.org
###