Through the Power of Kinetics the sculptures come to life 
In our last update, we reported our progress with Bevelvision. Mat Bevel Company President Ned Schaper has been capturing a mix of footage from three very different cameras.
In the near future, Ned will use green screen compositing to isolate and videotape many of his 52 characters. Called the Creative Forces, these characters will appear in Beveldom as "Junkachinas" who channel the wisdom of junk. In the story, Mat Bevel's characters are sent into the dumpster culture to liberate the relics of junk and help them find new purpose.
Ned will then place video of these characters into the video footage he's been capturing of the Museum Of Kinetic Art using the 360fly virtual reality camera, GoPro 5 miniature action camera and the Canon C100 Cinema Camera.
In this next phase of Bevelvision, some characters will begin to develop more. As one example, Jester Physics hasn't played a big role in the live theater productions. He wears a box helmet that prohibits audiences from seeing his mouth move and hearing his words. With Bevelvision, an important character like Jester Physics will take on a bigger role. Obviously with a camera, you can do a lot of magic with his solid, colorful helmet. And, you may see him at work or making a sculpture. 
According to Ned, "Capturing the characters using green screen and combining them with footage of the museum opens up many more environments for the world of Beveldom. The characters will be placed into the most beautiful variety of backgrounds including micro-footage of sculptures that audiences, up until now, couldn't experience in live theater productions."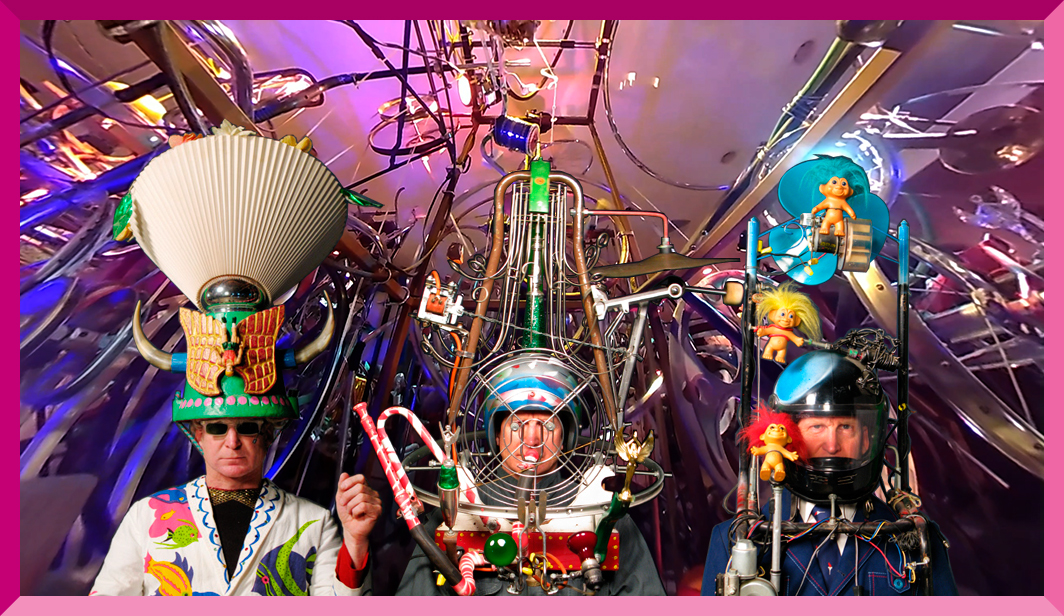 The Creative Forces 
locked in the relics of junk are unleashed
What's next? The key to the evolution of Bevelvision is shooting and combining footage of the Museum Of Kinetic Art with footage of the Creative Forces. Ned is close to establishing Beveldom's surrealistic setting using his fine-art kinetic sculptures as a spaceship-like backdrop. 
We're looking for a small space where Ned can green screen Beveldom's characters. Do you know of a quiet space in Tucson where we can install a green screen and record Beveldom's 52 characters? If so, please contact Paula Schaper at 520-604-6273 or shoot her an email at: pschaper@matbevecompany.org.
If you'd like to receive monthly updates, news, artwork and inspiration from the world of Beveldom, please sign up for our newsletter The Junk Evangelist.