Everyone is born a creative genius.
To keep your genius alive you must…
…use your imagination every day.
Our programs spark the creative genius in you. 
MISSION:
Mat Bevel Company is an arts and education nonprofit whose mission is to increase creativity and problem-solving skills through our programs. Our found-object kinetic art museum, science theater, hands-on educational curriculum and multimedia TV productions inspire people to tackle challenges and seize opportunities with far greater imagination.
June 2021 Is Our Annual Fundraiser!
Now that we have a permanent home, we're ready to deliver exciting new 21st century inspiring art and educational programming to spark the natural creative genius in us all!  We just need your support during the month of June, 2021 to produce Bevel Cafe: A Junk Reality Show, Launch Pad Enterprise, Kid Bevel and The Universe Within.
The Multimedia Edition Of The Universe Within Is Now Available!
The Universe Within is an introduction to world-building that sparks the inherent genius in kids (and adults!). Students create positive superhero characters who tackle major environmental or social issues in their imagined worlds. Throughout the course, they learn how to engineer strong structures using cardboard and attachment mechanisms as they construct functional tools and headdresses for their characters.
There are four essential components to The Universe Within multimedia curriculum:
Opening 3-minute videos with inspiration from Beveldom, instructions by Math Professor Dr. Bayly and demonstrations by peer mentors
The User Guidebook with all learning objectives, success criteria, assignments, standard alignment and resources
The Daily Doodle student notebook with all sequential worksheets
DIY instructions for the STEM kits
If your school, club, library, museum or family would like more information, contact Paula Schaper: 520-604-6273 or pschaper@matbevelcompany.org.
Watch One Of The Opening Videos!
Each lesson opens with a 3-minute video filled with inspiration from the magical world of Beveldom, instructions by an animated character of math Professor Dr. Bayly and peer demonstrations by fifth and sixth graders!
Watch Our Progress!
Mat Bevel Company is using the museum as the set for filming a virtual tour, TV shows and blended and e-learning editions The Universe Within curriculum. To watch our progress and get videos of the museum delivered to your inbox, sign up for our monthly newsletter, The Junk Evangelist.
Mat Bevel Company Updates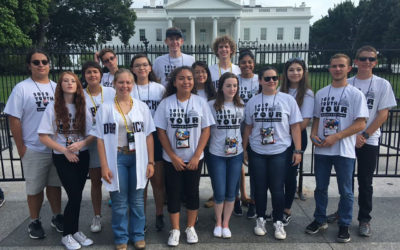 MBC sponsor Sulphur Springs Valley Electric Cooperative's Washington Youth Tour provides an opportunity for high school juniors to take an all-expense-paid week-long trip to see our nation's capital.Voted a 5-Star Electric Co-Op for 2019-2020, Sulphur Springs Valley...
Support Our Work
Support Art & Education That Inspire The Imagination
Mat Bevel Store
Our online store offers merchandise from the Mat Bevel Store!
The Universe Within
Get The Universe Within STEM World-building Curriculum.
Thanks to our major supporters!